Safari
7 days | 6 nights
Tanzania safari - 4 parks in 7 days
A Tanzania safari to Tanzania's famous parks in the northern circuit, often called The Wild Kingdom, with an extra day in Serengeti. Serengeti is in many ways the crown jewel of all of Africa's great safari parks and the extra day here gives you a chance to fully explore the full extent and diversity of this amazing park.
Highlights of the journey
Serengeti
The vast and amazing Serengeti National Park with huge herds of wildebeest, zebra and Thomson's gazelle and pride of roaring lions is Tanzania's, and in many ways Africa's, best safari park.
Ngorongoro Crater
On the floor of the caldera, that once was a mighty volcano as high as Kilimanjaro, 30 000 mammals live year round. Among them rhinos and black maned lions
Lake Manyara
An enchanting forest with hundreds of species of birds, elephants, monkeys and leopards on the shores of a lake on the bottom of The Great Rift Valley.
Tarangire
Huge baobab trees, some as old as the pyramids in Giza, large herds of elephants, dry savannah and lush marshlands. Tarangire will surprise you.
Itinerary
Day 1:

Pick up at the airport

Our staff welcomes you at Kilimanjaro or Arusha Airports. We make sure all your luggage arrives and helps you if there is anything you need to handle at the airport. You are then transferred to your hotel in Arusha for dinner and overnight. 
Day 2:

Tarangire

At 07:30 your guide will arrive at your hotel to pick you up and you head off towards Tarangire National Park. The drive is 2-3 hours over tarmac road. After a short stop at the gate you will drive into Tarangire for a gam drive hoping to see elephants and many other animals such as lion, leopard, buffalo, wildebeest, zebra, ostrich, warthog, hyena, jackal and many other. You stop for a picnic lunch inside the park. Late in the afternoon you leave Tarangire and drive to your lodge just outside the park. 
Day 3:

Serengeti

Early breakfast and departure towards Serengeti. On the way you make a short stop on at Rift Valley viewpoint 600 meters above Lake Manyara and on the rim of the Ngorongoro Crater. After 3-4 hours you arrive in Serengeti and the rest of the day is spent spotting animals in Serengeti. Among the many animals you may see here are lion, hyena, leopard, cheetah, jackal, serval, buffalo, zebra, giraffe, waterbuck, eland, topi, hartebeest, warthog, baboon, rock hyrax and many more. You stop for a picnic lunch inside the park. In the evening you arrive at your tented camp in the heart of Serengeti.
Day 4:

Serengeti

Full day with game drives in Serengeti. You plan the day together with your guide. It is your own choice if you want to do shorter morning and afternoon game drives with lunch at the lodge or if you want to go out for a full day game drive with picnic lunch.
Day 5:

Ngorongoro Crater

Early breakfast and then departure for Ngorongoro Crater. You reach the crater after about 3 hours, including a stop at the gate at Nabi Hill. After a short stop at the rim of the crater you drive down to the crater floor to see the amazing number of animals that liver there. Ngorongoro Crater is your best chance to see rhino and you can also see many other animals like lion, hyena, cheetah, wildebeest, zebra, buffalo, elephant, hippo, vervet monkey and many others. You stop for lunch on a picnic site inside the crater. Late afternoon/evening you leave the crater and drive to your lodge just outside Ngorongoro Conservation Area. 
Day 6:

Lake Manyara

After an early breakfast you leave your lodge and drive to Lake Manyara. You make a short stop at Rift Valley viewpoint above Lake Manyara before you drive into the park. Lake Manyara is one of Tanzania's smaller parks but it has an amazing variety in nature and wildlife. Inside the park you will drive through lush groundwater forest, marshland and savannah. Among the animals you are likely to see here are baboon, vervet monkey, black and white colobus monkey, hippo, buffalo, elephant, warthog, giraffe, impala and many species of birds. You stop for lunch on a picnic site inside the park. In the afternoon you leave Lake Manyara and drive to your tented lodge just outside the epark with amazing views of Lake Manyara and Great Rift Valley.
Day 7:

Going home or contuining to your next destination

This day you get up just before dawn and do a guided bush walk (safari on foot) on the savannah right next to Lake Manyara, hoping to see zebras and impalas as well as Masai boys herding their cattle. You walk all the way to the lake and then back for breakfast at the lodge. After breakfast you leave the lodge and drive to Arusha or Kilimanjaro Airport for your flight home or to your next destination. 
Hotels & lodges of the trip
Hotel in Arusha before and/or after your safari
Do you need to book a hotel before and/or after your safari in Tanzania. We can off course help you with this as well as with airport transfers. Here are a few hotels in Arusha that we can recommend. 
Summit Safari Lodge
Good value for money and good location near the road to Lake Manyara and the other safari parks. The hotel has nice rooms and a garden with a pool. More about Summit Safari Lodge.

Arusha Planet Lodge
Nice, midrange hotel in the outskirts of Arusha. Spacious rooms and a nice garden with a pool. More about Arusha Planet Lodge

Airport Planet Lodge
Sister hotel to Arusha Planet Lodge. Very convenient if your arrive on a late flight or if you leave on an early flight. Slightly less good that Arusha Planet Lodge but still a good value for money. 
Fourpoints by Sheraton The Arusha Hotel
Nice four star hotel with a great location for experiences Arusha Town. Wonderful garden with a great pool. High quality room. The location is a minus when going on safari though as you have to go through Arusha traffic and cannot use the new ring road. 
Arumeru River Lodge
Located in a beautiful large garden compound in Usa River eat of Arusha Town. Arumeru River Lodge offers a rustic luxury and great value for money in large rooms with easy access to the garden where dik diks graze, and the pool area. More about Arumeru River Lodge.
Add a beach vacation in Zanzibar
Do you want to add a beach vacation in Zanzibar?
Here are some hotels that we recommend, and we would be happy to help you book.
Michamvi Sunset Bay (higher mid-range) – Michamvi Peninsula eastern Zanzibar
Michamvi Sunset Bay is a great value for money hotel that offers rustic and very nice rooms, with great service, good food and a superb location with a beach with sunset views.  

Fun Beach Hotel (basic mid-range) – Jambiani, south-eastern Zanzibar
Good value for money in this hotel that has a great location on a long sandy beach in Jambiani on the southeast corner of Zanzibar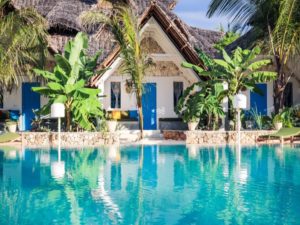 Fun Beach Hotel Zanzibar

Mnarani Beach Cottages (basic mid-range) – Nungwi, northern Zanzibar
Mnarai Beach Cottages has several differet types of rooms, from the fairly small and basic standard rooms to the spacious and lovely superior rooms. All offer basic to mid-range standard at a good rate. More about Mnarani Beach Cottages here.
Stay on the rim of the Ngorognoro Crater
Do you want to upgrade your safari and stay one night on the rim of the Ngorongoro Crater? The views of the largest unbroken caldera in the world are unparalleled and breathtaking. We recommend Ngorongoro Serena Safari Lodge.